Changes to the NHS Walk-In Centres in Nottingham
Published: 25 September 2015 | Categories: NHS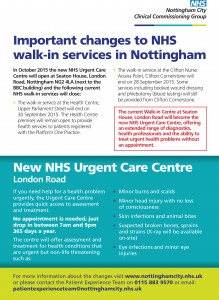 Following extensive public engagement, proposals have been agreed to combine funding for all three sites to provide one enhanced service that will still provide walk-in appointments but will offer additional treatment of urgent health problems (including x-ray for suspected broken bones).
Therefore the three walk-in services listed below will close on 30 September, but remain open until then.
Nottingham Walk-in Centre is open every day including weekends and bank holidays between 7am and 9pm.
Seaton House, London Road, Nottingham NG2 4LA
Tel: 0115 883 8500
The Health Centre is open from 9am to 7pm every day of the year for both drop-in and appointment services.
79a Upper Parliament St, City Centre NG1 6LD
Tel:0115 883 1960
Clifton Nurse Access Point in the Clifton Cornerstone – open 10am until 6pm Thursday, Friday, Saturday, Sunday and Monday (closed Tuesday and Wednesday).
Clifton Cornerstone, Southchurch Drive NG11 8EW
Tel: 0115 878 6100
The Walk-in Centre on London Road will then become a new NHS Urgent Care Centre for Nottingham (see below).
Coming soon: NHS Urgent Care Centre
From October 2015 the new NHS Urgent Care Centre will open at Seaton House, London Road, Nottingham NG2 4LA (next to the BBC building) replacing the current walk-in centre on that site. The centre will offer assessment and treatment for health conditions that are urgent but non-life threatening such as:
Minor burns and scalds
Minor head injury with no loss of consciousness
Skin infections and rashes
Suspected broken bones, sprains and strains (X-ray will be available on-site)
Eye infections and minor eye injuries
No appointment is needed; just drop in between 7am and 9pm 365 days a year.