Advice to patients as systems come back online in GPs
Published: 17 May 2017 | Categories: NHS
We are asking local people to be patient when booking or attending GP appointments as clinicians and NHS staff in Greater Nottingham work to restore normal service after Friday's cyber attack.
Surgeries have stayed open, treating patients since Friday.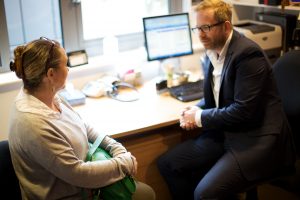 Although all GPs now have access to patient records, practices are working through a backlog of appointments as well as transferring paper records onto computer.
We apologise to members of the public for the inconvenience but are reassuring patients that all tests and referrals delayed since Friday are being treated as clinical priority.
We are very grateful to staff working in local practices for their continued dedication to patient care – and to the local NHS teams who have worked tirelessly responding to the cyber attack.
Patient guidance
People who have GP appointments should turn up as normal unless they are contacted directly and told not to.
If you need to book an urgent GP appointment, you will be able to do so but please bear with us if you have difficulty getting through to your practice and keep trying.
Please bear in mind that practices may be running more slowly while they returning to normal service.
Please be patient with staff as practices may be running more slowly
If you are awaiting test results or letters from the hospital please be aware correspondence may be delayed slightly.
If you feel your condition is worsening please contact your GP for advice.
All phone lines are open but there may be delay in answering your call
Thank you all for your patience over a challenging few days.