Stay Well this Winter
Preventing ill health is important during winter so choose lifestyle options that will impact positively on your physical health, mental well-being and self esteem. To beat those winter blues and keep healthy make sure you eat well, drink in moderation, stop smoking and stay active.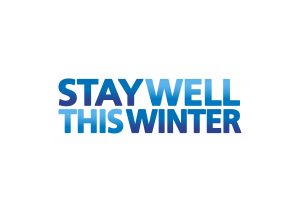 Some tips to keep you well this Winter!
Get a flu jab. It can protect you all winter.
If you have a long term health condition and you catch flu you're at a greater risk of complications. Contact your GP surgery to find out details of flu clinics or to book an appointment.
Sounds simple, but visit your pharmacy.
The pharmacist will give you advice on the best over the counter medication for common winter complaints such as coughs and colds that suit your condition and medication you may already be taking.
Catch it, kill it, bin it.
Almost everyone will have a cough or cold at some point this winter. Don't spread your germs. Cough or sneeze into a tissue, put it in the bin and wash your hands to stop the spread of germs.
Cold outside?
It's the perfect excuse to eat well and wrap up warm. Keep warm inside and out, by keeping active and having regular hot drinks and nutritious meals.
Think ahead.
Make sure that you have enough medication to last when your GP surgery may be closed.
Know when NHS services near your home are open. A&E and GP aren't your only options. You'll often be seen quicker at other NHS services, so check out NHS Choices (www.nhs.uk) for your nearest pharmacy, walk-in centre or minor injuries unit.
Personalised Care Plan?
It's a good idea for those with a long term condition to have an up-to-date personalised care plan. If you're not sure if you have a Personalised Care Plan, contact your GP for more information.