Be clear on cancer
Knowing the signs of cancer could save your life
The chances of surviving cancer are much greater if it is detected early.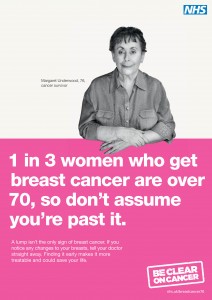 Changes to your body's normal processes or symptoms that are out of the ordinary can sometimes be an early sign of cancer. This might be a lump that suddenly appears on your body, unexplained bleeding or changes to your bowel habits . While these are symptoms of cancer, it's more likely they will be caused by other, non-cancerous health conditions.
However, it's still important for you to see your GP so that they can investigate your symptoms.
Read more about the signs and symptoms of cancer.
We'd ask that people with symptoms to see their GP as soon as possible. This plea is backed up by evidence that early detection was critical to the successful treatment of many different types of cancer including breast, cervical, skin, mouth and colorectal cancers plus some childhood cancers.
Dr Paul Oliver, Clinical Lead and Chair for the NHS Nottingham North and East Clinical Commissioning Group, said:
"While early treatment is crucial, prevention is even better than a cure. There are many ways in which people can reduce their risk of getting cancer, by avoiding such simple things such as tobacco, drinking sensibly, eating a balanced diet and taking exercise. Tobacco is linked to over 70 per cent of lung cancer deaths, whilst alcohol also increases the risk of numerous cancers including mouth, pharynx, larynx, oesophagus, bowel and breast."
More information about causes, prevention and symptoms can be found at NHS Choices