Enjoy the end of the summer but be prepared for bumps and scrapes!
Published: 26 August 2015 | Categories: Healthcare
With the summer holidays coming to an end many parents will be making the most of the sunshine before it is back to nursery, play group or school again. If your children are like most, they are probably chasing each other around the garden using more energy than you can muster. But with all that energy and excitement flowing there's bound to be a fall, scrape or even a bump to the head, so it's best to be prepared!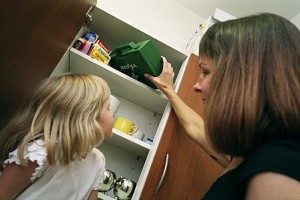 It's not uncommon for children to have accidents while playing at home. In fact, according to the Royal Society for the Prevention of Accidents, this happens to more than two million children under the age of 15 each year1. Of these, children under the age of five are the most likely to hurt themselves.
Most accidents are minor and can be treated at home with a first aid kit and lots of hugs. But when was the last time you checked your first aid kit?
Dr Paul Oliver, Clinical lead at Nottingham North and East CCG said: "Self-care is often best for cuts, scrapes and grazes. With all the minor accidents that happen over the summer months, it's a good idea to check your first aid kit to make sure it is stocked up. There's nothing worse than getting out the first aid kit to discover you've run out of plasters or antiseptic wipes. Your local pharmacy can advise you on treatment for minor injuries and over the counter medicines that are safe for your child."
A typical first aid kit should include:
high factor sunscreen (SPF 50 provides the best protection) – this should be re-applied every couple of hours during a day in the sun, even if it's cloudy or overcast. It's especially important if your child is in and out of water.
thermometer – digital thermometers give very accurate readings but may not be suitable for young children. A thermometer placed under the arm is a good way to read a baby or young child's temperature. In children under five, a fever is considered to be important if the temperature is higher than 37.5C (99.5F).
antiseptic – this can be used to clean cuts before they are dressed (bandaged) and most can treat a range of conditions, including insect stings, ulcers and pimples; alcohol-free antiseptic wipes are useful to clean cuts.
tweezers – for taking out splinters; if splinters are left in, they can cause discomfort and become infected.
plasters – a range of sizes, waterproof if possible.
sterile dressings – larger injuries should be covered with a sterile dressing to prevent infection until treatment can be given by a health professional.
medical tape – this is used to secure dressings and can also be used to tape an injured finger to an uninjured one, creating a makeshift splint.
bandages – these can support injured limbs, such as a sprained wrist, and also for applying direct pressure to larger cuts.
eyewash solution – this will help wash out grit or dirt from the eyes
insect bite and nettle rash cream – good for reducing skin irritation if your child is bitten or stung.
allergy medicine – your local pharmacy can advise you on the best type of allergy treatment for your child.
cooling gel packs or flannels – dip in cold water and use as a compress if your child has a small bump to the head.
coughs, colds and pain relief remedies – paracetamol or ibuprofen are good for relieving discomfort. However, avoid ibuprofen if your child has asthma, unless advised by your GP.
If you're worried about your child's injuries and unsure if they need medical help, call NHS111. This service offers advice 24 hours a day, seven days a week and can advise you where to go if someone, particularly children, has experienced a bang to the head, a sprain or an unexplained rash. All the caller has to do is dial 111 to talk to the NHS.
For more information about what to do if your child has an accident, visit NHS Choices