Don't get caught in the heat of the moment
Published: 22 June 2015 | Categories: Healthcare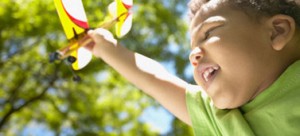 It's all too easy to get carried away if you're a toddler when the sun's out and you're enjoying yourself. Having to stop playing so mum, dad or gran can top up the sun cream is a real bore. That's why it's so important for parents to get it right from the start of play. Dig out the sun hats and sunscreen, or you may end up caught in a 'heat of the moment' toddler meltdown.

A moderate amount of sun is good for us all. In fact it's recommended. It provides essential vitamin D, which we need for good health, it improves our mood and helps promote better sleep – a fantastic combination if you have small children to entertain!

However, too much sun can be damaging. Protecting your children from the sun not only prevents painful sunburn but also significantly reduces the risk of developing skin cancer later in life. So how do you keep your child safe and still enjoy the sunshine?

Dr Paul Oliver, Clinical Lead, Nottingham North and East CCG says: "Exposing your skin to too much sun at peak times can cause sunburn or heatstroke and increase the likelihood of cancer. Sun is particularly harmful to young children who have delicate skin, so keep children in the shade when the sun's rays are at their strongest – usually between 11am and 3pm – and make sure they wear good protective clothing.

"Apply a sunscreen, which protects against harmful UVA and UVB rays. A sunscreen with a sun protection factor [SPF] of 50 gives the best protection. Re-apply sunscreen every couple of hours during a day in the sun, especially if your child is in and out of water. Water washes off sunscreen, and the cooling effect of the water masks the feeling of getting burned."
Other things to consider:
Cover exposed parts of your child's skin with sunscreen, even on cloudy or overcast days. Don't forget to apply it to their shoulders, nose, ears, cheeks and the tops of their feet.
Be especially careful to protect your child's shoulders and the back of their neck when they're playing, as these are the most common areas for sunburn.
Cover your child up in loose, baggy cotton clothes, such as an oversized t-shirt with sleeves.
 Get your child to wear a floppy hat with a wide brim that shades their face and neck.
Protect your child's eyes with sunglasses that meet the British Standard (BSEN 1836:2005) and carry the "CE" mark (check the label or ask the manufacturer).
If your child is swimming, use a waterproof sunblock and re-apply after towelling.
For minor sunburn it is best to sponge sore skin with cool water, then apply soothing after sun or calamine lotion. Your local pharmacy can advise on over the counter treatment to help ease symptoms and reduce inflammation.
If your child feels unwell or their skin swells badly or blisters, visit your local NHS walk in centre in Nottingham City Centre or call NHS 111