First Annual Public Meeting for Greater Nottingham CCP
Published: 02 October 2018 | Categories: Events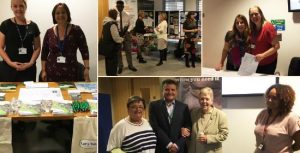 On Wednesday 26 September 2018, we held our first joined-up Greater Nottingham Clinical Commissioning Partnership (GNCCP) Annual Public Meeting at the conference centre at Nottingham Trent University. It was a well-attended event, with members of the public, patient representatives and staff from local organisations joining us to celebrate our collective and individual CCG achievements.
The event began with a market place showcasing local services in Nottinghamshire such as IAPT, extended GP services, which was offering blood pressure and weight checks, and the Carers Federation.
This was followed by the formal presentation delivered by Acting Accountable Officer, Gary Thompson, Chief Finance Officer, Jonathan Bemrose, and all four of our CCG clinical leads. The presentation celebrated our successes – including the rollout of the Red Bag Scheme and Discharge to Assess, our challenges, plans for the future and a reflection on our finances and performance over the last year. You can download the slides here.
Thank you to all the volunteers who helped to organise and run the event.