Elderly reminded of risks of cold weather
Published: 18 January 2016 | Categories: Community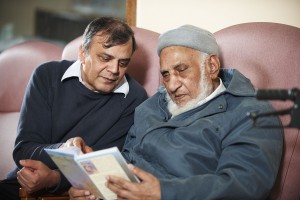 With cold weather upon us we're urging elderly and vulnerable residents across the Nottingham North and East to take steps to ensure they stay well and safe this winter.
Cold weather spells can affect everyone, but for older people a drop
in temperature can aggravate certain health problems. This can lead to admittances to hospital which can be avoided.
The elderly are more susceptible to colder temperatures for a number of reasons. If they are not active, not eating enough, taking medication that can interfere with the body's ability to regulate temperature, or keeping their house at a low temperature, for instance sleeping with bedroom windows open1, this can all lead to health problems.
In addition as people get older they are more likely to have a long-term condition which affects their ability to feel a drop in temperature. Those with Alzheimer's might not recognise they are feeling cold. Heart problems, severe arthritis, or someone who has had a stoke are all conditions which can change the body's ability to respond to temperature changes, for example, by affecting the fingers and toes where cold is often first felt.
Similarly, venturing outside when it is icy or has been snowing can cause falls as people lose their footing. Those that are older are more likely to fall which can often lead to broken bones, in particular the femur or thigh bone2.
In addition to bad weather, over 75s are more likely to fall due to balance problems and muscle weakness; poor vision and long term conditions such as heart disease; dementia or low blood pressure (hypotension) which can lead to dizziness and a brief loss of consciousness.
In the UK, falls are the most common cause of injury related deaths in people over the age of 75.
"Keeping warm inside and outside the house during the winter months and taking simple precautions minimises the risk of problems developing" explains Dr Paul Oliver, Clinical Lead, Nottingham North and East CCG.
"Colder weather affects everybody at this time of year but it can cause serious problems for older people and those with long term conditions. Making sure your home is warm is one important step – it needs be at least 18oc – but we also need to make sure our home is safe and take extra precautions when we go out in cold weather.
"As neighbours we can also play an important role in checking on older and vulnerable residents. Sometimes that friendly knock on the door can make all the difference."
Top tips to help stay healthy and safe this winter include:
Ask your local pharmacy if they offer a prescription pick-up and delivery service which can avoid a potentially hazardous journey to collect medications in bad weather.
Dress in plenty of layers, particularly when leaving the house and make sure you have some warm shoes or boots with non-slip soles.
Eat healthily and keep as active as possible. Keep a good supply of basic food items in the cupboard or freezer in case it becomes too cold to go shopping.
Check your heating and plumbing systems are working properly and have been serviced recently.
Ask if neighbours, family or friends can make checks on you periodically.
Keep an eye on weather forecasts, particularly severe weather warnings from the Met Office.
Keep a mixture of salt and sand handy to put on steps or paths in icy weather.
Keep simple cold, flu and sore throat remedies in the house.
Follow up your GP's invitation to have a flu jab even if you had the vaccination last year.
Order repeat prescriptions in plenty of time, particularly if bad weather is forecast.
Do not go out unless you have to when it is icy or has been snowing.
For more information on staying well this winter.