Colwick Vale Surgery patient consultation report
Published: 31 March 2016 | Categories: Community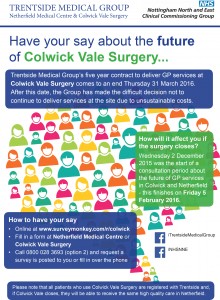 Trentside Medical Group's five year contract to deliver GP services at Colwick Vale Surgery comes to an end Thursday 31 March 2016. After this date, the Group made the difficult decision not to continue to deliver services at the site due to unsustainable costs.
The practice announced their decision at a public meeting on Wednesday 2 December 2015. At this event, Trentside Medical Group and Nottingham North and East Clinical Commissioning Group |(CCG) launched a public consultation about Trentside Medical Group's decision and how it might impact the practice's patients.
The public consultation ran up to Friday 5 February 2016, after which the feedback was evaluated and a report written. The report details the issues and views of the public and how the Practice and CCG plan to respond.
This report then also went to the Gedling Overview and Scrutiny Committee who provided further comment, included in the responses in the report, and the Primary Care Commissioning Committee, both of which approved the process.
During the consultation period, we held two public meetings. Moreover, patients were encouraged to share their views about the future of primary care in Colwick and Netherfield online, over the phone or filling in a consultation survey at both Colwick  and Netherfield surgeries. We were keen to get the views of residents who couldn't attend the public meeting on 2 December and who may be affected about what impact the closure would have on their lives.
After looking at the responses to the survey, Trentside Medical Group have started some new initiatives to ensure patients have access to appointments and to address patients concerns.
You can view the Colwick surgery consultation report
If patients would like to discuss this further, they should contact PALS (Patient Advice and Liaison Service) on 0800 028 3693 (Option 2) or by email: pet@nottinghamnortheastccg.nhs.uk