Top tips for carers this winter
Published: 24 November 2015 | Categories: Campaigns
Every winter, the vast majority of unpaid carers miss out on a free flu jab, despite the fact that they are entitled to request one. If you receive a carer's allowance, or you're the main carer for an elderly or disabled person whose welfare may be at risk if you fall ill, speak to your GP or pharmacist about having a free flu jab along with the person you care for.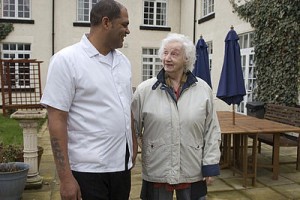 Flu is not just a bad cold- it can be very unpleasant. The symptoms tend to start more suddenly, be more severe and last longer.
Dr Paul Oliver, Clinical Lead, Nottingham North and East CCG, said: "The flu vaccination is still the best protection against an unpredictable virus which can cause severe illness and deaths amongst vulnerable groups, including older people and those with a health condition, even one that is well managed."
As well as receiving the flu jab, everyone can help themselves stay healthy this winter by taking a few simple steps:
Sounds simple, but visit your pharmacy. If you start to feel unwell don't ignore the symptoms. Talk to your pharmacist as soon as possible. They are trained to give you advice on over the counter medicines for common winter complaints such as coughs and colds that suit your condition. They will also advise you about what remedies to keep in your medicine cabinet. You can find out which pharmacies are close to you by visiting www.nhs.uk/staywell
Good hand hygiene. Touching things not only spreads, but picks up germs too. And this is the most common way to pick germs. Wash hands regularly using soap and water, and always make sure your hands are dried thoroughly after washing.
Achoo! Cough or sneeze into a tissue, put it in the bin and wash your hands to stop the spread of germs. Don't keep used tissues, you're just carrying the germs around. It really is that simple.
Eat well and wrap up warm. Keep warm inside and out, by keeping active and having regular hot drinks and nutritious meals. If you have breathing problems even a small change in temperature can affect you. So take extra care.
Think ahead. Make sure that you have enough medication to last when your GP surgery may be closed. It's important that you book any routine appointments with your practice in plenty of time and ensure that you have enough medication to last you over these times. If you haven't already done so, talk to your GP practice about registering for Patient Online. You can now make appointments and request repeat prescriptions online. No need to ring the surgery.
Dr Oliver added: "If a carer is struck down by flu or gets unwell over winter they could become too ill to care. If no-one else can step in to look after the person they care for, the person they care for could be at risk. The carer could also pass on the virus and make the person they care for seriously ill, especially if they have a lowered immune system. So if you are a carer, make sure you are protected and arrange your flu jab now."
So, help protect yourself and others by speaking to your GP or local pharmacist now – it's free because you need it. Those employed in healthcare settings or looking after the ill or vulnerable should speak to their employer.
For more information about flu jabs for carers, visit Carers UK