Protect your unborn baby with a free flu jab
Published: 26 October 2016 | Categories: Campaigns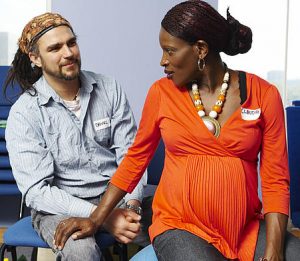 We're encouraging all pregnant women to get their free flu vaccination before the flu virus starts circulating.
Flu can cause many complications during pregnancy, particularly in the later stages, such as premature births or low birth weights. In some cases, it can lead to stillbirth or even death in the first week of life. However, getting your free flu vaccination can help prevent difficulties and keep mother and baby safe.
Keeping fit and healthy in pregnancy is important for your baby's growth and development, but your immune system whilst you are pregnant is naturally lower and if you catch the flu virus it can become serious very quickly.
Dr James Hopkinson, Clinical Lead, Nottingham North and East CCG said: "I would urge anyone who is pregnant to get the flu vaccination as soon as possible. During pregnancy a woman's immune system is naturally lower to ensure that the pregnancy is successful. As a result, pregnant women are less able to fight off infections and therefore more likely to be seriously ill if they contract the flu virus.
"The flu vaccination is the best protection against flu. It's safe during any stage in pregnancy, from the first few weeks through to the woman's due date and doesn't carry any risks for mother or baby. Women who have had the flu vaccine while pregnant also pass some protection on to their babies, which lasts for the first few months of their lives."
Ask your midwife, GP or pharmacist about your free flu vaccination now. It's free because you need it.
For more information about how to stay well this Winter