Plea to Nottinghamshire women to attend Cervical Screenings
Published: 28 January 2016 | Categories: Campaigns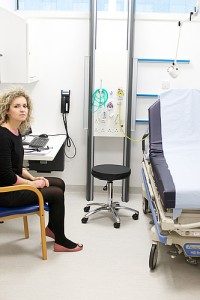 We're backing a campaign urging women aged 25-49 to attend regular screenings for cervical cancer. Research has revealed that more than five million British women are failing to attend cervical screenings altogether and a further million have never had a smear test. Nearly 3,000 women are diagnosed with cervical cancer each year in the UK.
March will see the seventh anniversary of the death from cervical cancer of reality TV star Jade Goody. Jade was aged just 27 and may well have survived if she had undergone the regular screening tests that detect the disease in its early stages.
Women aged 25 to 49 are invited for cervical screening every three years. After that, women are invited every five years until the age of 64.
Since the introduction of cervical screening in the 1980s, rates of cervical cancer have almost halved.
As many as eight women in the UK are diagnosed with cervical cancer every day and three women will lose their lives to the disease. Yet cervical cancer is largely preventable and, if caught early, the survival rates are high.
For younger women, HPV vaccinations can help prevent seven out of 10 cervical cancers, and these are routinely given to girls across the country aged 12 and 13. This is a vaccination against the persistent human papillomavirus (HPV) infection that causes changes to the cervical cells and is responsible for nearly all cervical cancers.
However, although rarer there are some recognised symptoms associated with cervical cancer which women are advised to be aware of:
Abnormal bleeding
Post-menopausal bleeding
Unusual discharge
Discomfort or pain during sex
Lower back pain
Dr Paul Oliver, GP and chief clinical officer for Nottingham North and East Clinical Commissioning Group said: "I can't stress enough the importance of women having regular cervical screening. The screening programme saves 5,000 lives each year in the UK yet 20 per cent of women are not attending their cervical screening test annually.
"During the early stages, cervical cancer will not often have any symptoms and the best way for it to be detected is through a screening. Prevention is the key to improving survival rates and cervical screening will save lives.Cervical cancer is largely preventable and, if caught early, survival rates are high.
"Being screened regularly means that any abnormal changes in the cells of the cervix can be identified at an early stage and, if necessary, treated to stop cancer developing. It is estimated that early detection and treatment can prevent up to 75% of cervical cancers."
For more information, please visit: www.jostrust.org.uk