Proposed merger consultation update
Published: 24 July 2019 | Categories: NHS
We can now share the findings from the recent consultation that asked you for your views on the proposed plans to merge the six CCGs in Nottinghamshire – Mansfield and Ashfield, Newark and Sherwood, Nottingham City, Nottingham North and East, Nottingham West and Rushcliffe –to create one Nottingham and Nottinghamshire CCG.
The consultation closed on 17 June 2019 and on Thursday 4 July 2019 the Response to Consultation Feedback and a Consultation findings report  were presented to our Governing Bodies meeting in common.
We would like to thank you all for taking the time to complete the survey and for your overall support for this significant decision.
In addition to your responses, our collective GP membership across the county were asked to vote on the proposal to merge. This process was led by the Local Medical Committee (LMC) and the result of the vote provided us with a clear mandate to progress our application to formally merge our six CCGs.
Key points of note from the voting process are as follows:
100 of our 132 practices voted
Of those practices who voted 86% supported the proposal to merge
Each individual CCG area had clear majority support of the GP membership for the proposal to merge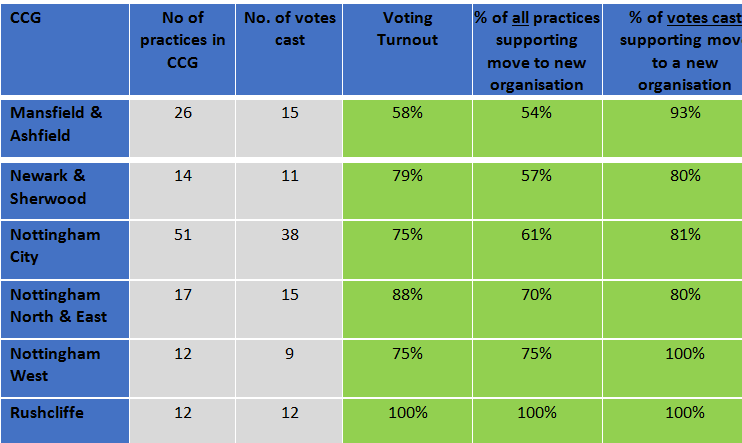 The stakeholder consultation saw 63% of the 192 people who completed the online survey in favour of our proposal to merge, with 13% in favour of staying as we are. The overriding theme of the stakeholder feedback has been the importance of localism which is already a cornerstone of our plans and we will ensure that we are cognisant of this as we progress.
The next stage of the process is that our application will be submitted to the national commissioning panel and we anticipate the final decision on whether we can proceed towards merger being made in Autumn.
In the meantime we would like to thank you all of you for taking the time to complete the survey and for your overall support for this significant decision. We will continue to work on developing the next phase of the strategy which, subject to final approval, will take us to implementation stage and this will involve further engagement and discussion with practices.