Notts health leaders rise to Prime Minister's challenge on dementia
Published: 16 August 2013 | Categories: Community Healthcare NHS
Health and local government leaders from across Nottinghamshire have signed a charter committing to make areas they serve, Dementia Friendly Communities. It follows the The Prime Minister's challenge on dementia that 20 towns would become Dementia Friendly Communities by 2015.
Health officials from NHS Nottingham North and East Clinical Commissioning Group, the organisation that plans and buys health services for Gedling, have joined forces with six other councils including Gedling Borough Council, Ashfield District Council, Broxtowe Borough Council, Newark and Sherwood District Council and Nottinghamshire County Council to make towns and villages in those areas Dementia Friendly Communities. Together, these organisations have pledged to commit to improving services and support for people living with dementia, and their carers.
They will now get specific support from leading businesses to help meet the Prime Minister's Challenge to fight dementia which affects around 800,000 people in the UK. The Alzheimer's Society predict that the numbers affected will double in the next 40 years. Dementia Friendly Communities will support the five year strategy of the Alzheimer's Society's aim to help people living with the condition.
Dr Paul Oliver, Nottingham GP and Clinical Chair NHS Nottingham North and East CCG said: " There are already a good network of support services for people who show symptoms of dementia. It is now one of the biggest challenges faced by health and social care leaders throughout the UK. Here in Nottinghamshire, signing the charter is our way of demonstrating our own commitment to working with our partners in the health community to deliver effective care and support for people living with the condition and their carers. We support the work of the Alzheimer's Society in leading on investment in research to improve care and advance prevention. This forms part of the CCG's support of the county wide initiatives to plan health services better so that they fit around the changing needs of our ageing populations."
The Charter has the commitment of Gedling Borough Council. Councillor Jenny Hollingsworth, cabinet member responsible for health and housing said: "I know how much work goes on to support people living with dementia and I appreciate the impact the symptoms can have on people's lives. By signing the Charter we are demonstrating our commitment to becoming a Dementia Friendly Council by 2015 and improve the support for members of the communities affected by the illness."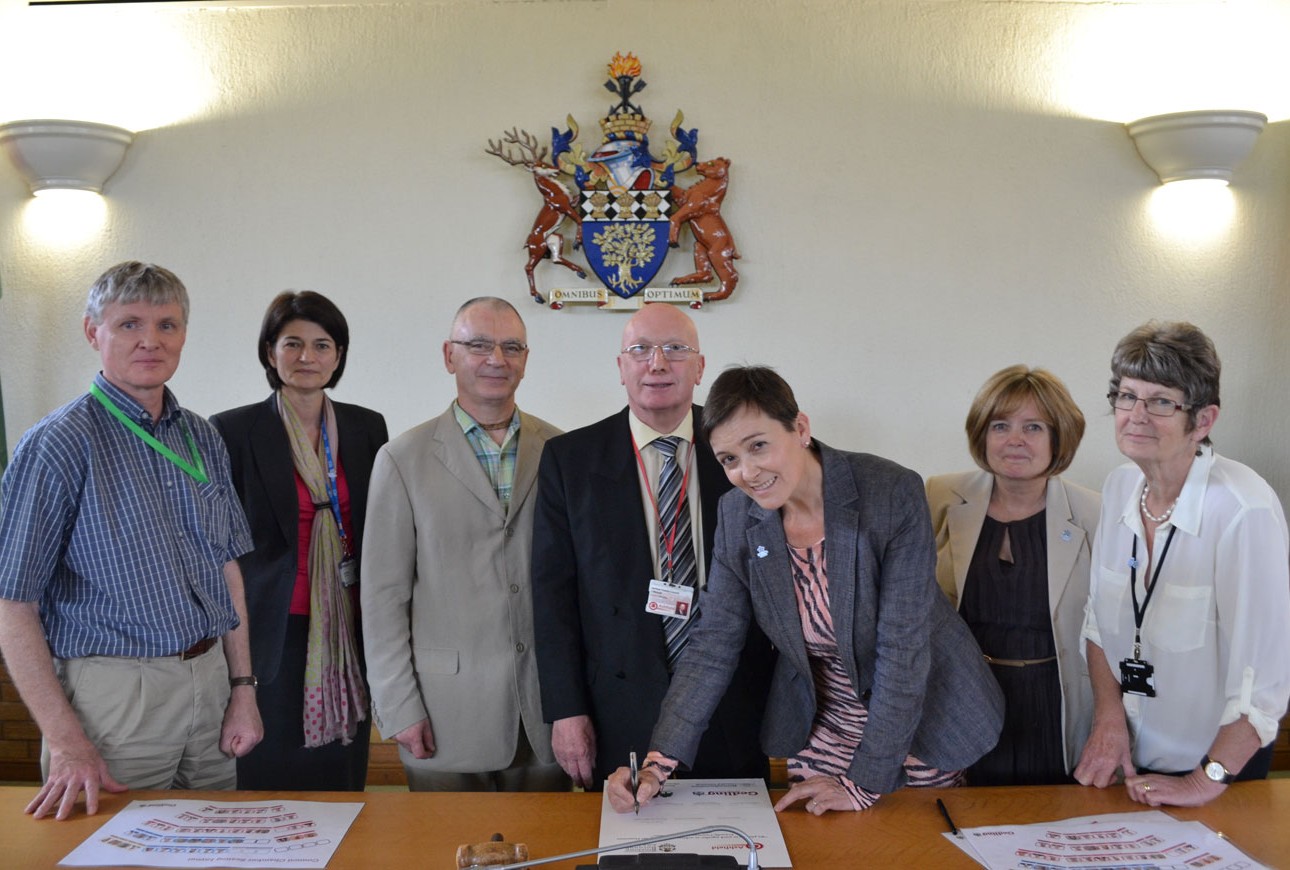 The Dementia Friendly Communities training was delivered to NHS Nottingham North and East CCG, by Local Authorities Partnership Sub-Group meeting held at the Gedling Civic Centre. Following the training a Charter was signed. Please see photo attached. From left to right
1. Dr John Tomlinson, Deputy Director of Public Health, Nottinghamshire County Council
2. Sam Walters, Chief Operating Officer for NHS Nottingham North and East CCG
3. Dr Paul Oliver Clinical Lead for NNE CCG
4. Cllr John Wilmott – Ashfield District Council
5. Ruth Hyde, Chief Executive of Broxtowe Borough Council
6. Helen Byrne, Alzheimer's Society
7. Cllr Jenny Hollingsworth – Gedling Borough Council
What are the symptoms of dementia?
Dementia is not a single illness but a group of symptoms caused by damage to the brain. The symptoms include loss of memory, mood changes and confusion. Dementia affects everyone in different ways, but you should seek help without delay if your memory is not as good as it used to be and especially if you:
• struggle to remember recent events, although you can easily recall things that happened in the past
• find it hard to follow conversations or programmes on TV
• forget the names of friends or everyday objects
• cannot recall things you have heard, seen or read
• notice that you repeat yourself or lose the thread of what you are saying
• have problems thinking and reasoning
• feel anxious, depressed or angry about your forgetfulness
• find that other people start to comment on your forgetfulness
• feel confused even when in a familiar environment.
There is help available for people with dementia and treatments which can sometimes lessen the symptoms, so it is important you speak to your GP as soon as possible if you are concerned.
About Dementia
•One in three people over 65 will develop dementia
• Two thirds of people with dementia are women
Defining dementia
• The term dementia describes a set of symptoms including memory loss, mood changes, and problems with communicating and reasoning.
• Dementia is not part of growing old. It is caused by diseases of the brain, the most common being Alzheimer's.