Nottingham and Nottinghamshire Sustainability and Transformation Plan (STP)
Published: 24 November 2016 | Categories: NHS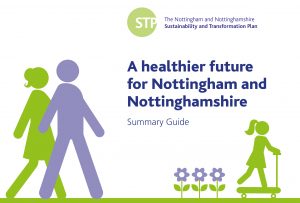 A draft five-year plan for the future of health and social care in Nottingham and Nottinghamshire has been developed.
The plan considers how we can best improve the quality of care, the health and wellbeing of local people, and the finances of local services. This plan is a live document and will continue to evolve.
Available here are the full Sustainability and Transformation Plan (STP) for Nottingham and Nottinghamshire, the plan's executive summary, and a summary guide.
The documents are also available with annexes on the County Council website.