NNE pledge to get closer to patients
Published: 28 February 2014 | Categories: Campaigns Healthcare NHS
NHS staff at Nottingham North and East are gearing up for NHS Change Day 2014, one of the largest social movements of its kind anywhere in the world.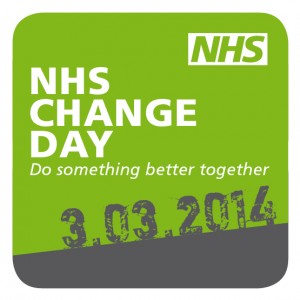 NHS Change Day, which this year takes place on Monday 3 March – is a frontline 'Call to Action' for NHS staff, patients and the public. The idea is to get as many people as possible to pledge to do one thing to make the NHS better. Pledges can be big or small, personal or professional but must make a difference to patient care.
We have pledged to get closer to patients and better understand their experiences of NHS services.
Every member of staff, from finance to admin, from pathways to prescribing, will take part in at least one engagement activity over the next year, whether it's participating in engagement events, contributing to the People's Council, going on quality check visits to providers, getting involved with patient networks, or supporting GP practice patient groups.
We hope that if all staff have a better understanding of the patient experience and the services that patients value, we can ensure we are commissioning the right ones.
NHS Change Day started in March 2013 with a conversation on twitter between junior doctors and improvement leaders, about what they could do to improve the care for their own patients. Their Twitter conversation caught the imagination of staff and patients all over the country and grew into a social movement that generated nearly 200,000 pledges to make one small positive change to the NHS.
This year Change Day is hoping to generate half a million new pledges. To find out more or make your own pledge for NHS Change Day, go to www.changeday.nhs.uk