New Mental Health strategy for Nottingham and Nottinghamshire
Published: 25 April 2019 | Categories: NHS
 Integrated Care System (ICS) Mental Health Strategy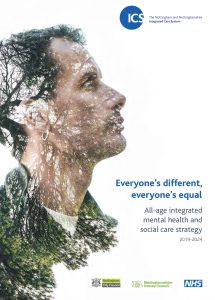 The all age Nottingham and Nottinghamshire mental health strategy has been published. This has been the result of nine months of work, involving Nottinghamshire Healthcare, the Nottinghamshire CCGs, our local hospitals and Local Authorities, as well as the third sector, service users, carers and other partners, including the police and housing.
The All Age Mental Health Strategy builds on the many positive aspects of services provided by NHS and local authority partners in our area, and the improvements already being made in support of NHS England's Five Year Forward View for Mental Health and latterly the NHS Long Term Plan.
The strategy represents our commitment to the re-shaping of services and other interventions so that they better respond to the mental health and care needs of the population.
It considers the crucial role of prevention, the interaction between mental and physical health needs, and the mental health impact of physical conditions.
ICS Mental Health and Social Care Strategy
ICS Mental Health and Social Care Executive Summary