Have your say about the future of Colwick Vale Surgery
Published: 22 December 2015 | Categories: Community NHS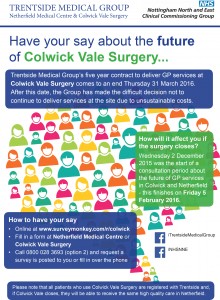 Trentside Medical Group's five year contract to deliver GP services at Colwick Vale Surgery comes to an end Thursday 31 March 2016.After this date, the Group has made the difficult decision not to continue to deliver services at the site due to unsustainable costs.
Nottingham North and East Clinical Commissioning Group representatives attended the public meeting on Wednesday 2 December at Colwick Vale Social Club and listened closely to patient feedback. This meeting marked the start of a consultation period which will run until 5pm on Friday 5 February. After which time, we will evaluate the responses.
We are keen to get the views of residents who couldn't attend the public meeting on 2 December and who may be affected.
Following the evaluation of the survey, we will work with our Local Authority colleagues and Trentside Medical Group to look at what options may be available to patients.
We will also take into consideration the plans for a new state-of-the-art surgery on the old school site on Meadow Road (plans which have been agreed but are subject to funding).We are committed to ensuring all local patients can access good quality care and are working closely with the pract
Please take the time to fill in this short survey – we need your input to ensure we provide the best possible service for the people of Colwick and Netherfield.
Please note that all patients who use Colwick Vale Surgery are registered with Trentside and, if Colwick Vale closes, they will be able to receive the same high quality care in Netherfield.
How to have your say
Online at www.surveymonkey.com/r/colwick
Fill in a form at Netherfield Medical Centre or Colwick Vale Surgery
Call 0800 028 3693 (option 2) and request a survey is posted to you or fill in over the phone