Help decide the future of gluten free food on prescription
Published: 22 August 2015 | Categories: NHS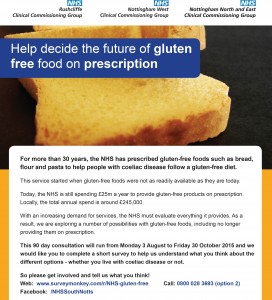 Along with Nottingham West and Rushcliffe CCGs, we are conducting a consultation about the future of gluten-free foods on prescription and are asking for your views.
For more than 30 years, the NHS has prescribed gluten-free foods like bread, flour, cereal and pasta to help people with coeliac disease to follow a gluten-free diet.
This policy was created at a time when gluten-free foods were not as readily available as they are today. In recent years, the range of gluten-free products has increased dramatically, with most supermarkets now stocking a wide range of these items.
However, the NHS is still spending £25m a year to provide gluten-free products on prescription. Locally, the total annual spend is around £245,000. With an increasing demand for services, the NHS must look at all the products and services and make decisions about what services to expand and what to reduce. As a result, we are exploring the possibility of no longer providing gluten-free foods on a prescription basis.
This isn't the first time we've consulted on gluten free food on prescription. Last year, we carried out a consultation following which a decision was made to reduce the amount of gluten free food on prescription to 8 units of bread and/or flour only each month for all patients (with some extra for third trimester pregnancy and when breastfeeding).
Nottingham West and Rushcliffe CCGs are now looking at gluten-free foods on prescription and we are undergoing the consultation process again along with them to see if anything has changed and to get your views on:
Stop all prescribing of gluten-free foods.
Limit to 8 units of bread and/or flour each month.
Limit the products available to flour only (maximum of 4 units per month)
This 90 day consultation will run from Monday 3 August to Friday 30 October 2015 and we would like you to complete a short survey to help us understand what you think about the different options – whether you live with coeliac disease or not.
So please get involved and tell us what you think. Take the survey now.
You can complete the survey online or join us at one of our events