Join us at our Annual Public Meeting 2017
Published: 06 September 2017 | Categories: NHS
We'd like to in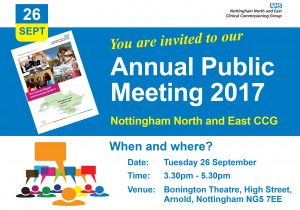 vite people who live in the Nottingham North and East area to join us at our Annual Public Meeting and look back at our year, celebrate achievements and debate future challenges.
The event, on Tuesday 26 September, is an opportunity to find out more about our work over the last year. It will take place between 3.30pm  and 5.30pm at the Bonington Theatre, Front Street, Arnold, NG5 7EE
We hope it will be a lively and informative event, so please come along.
For more information or to book your place please email Toni – antonia.smith@nhs.net or call: 0115 883 1833