Stay well this Winter with Pharmacy First
Published: 15 October 2015 | Categories: Healthcare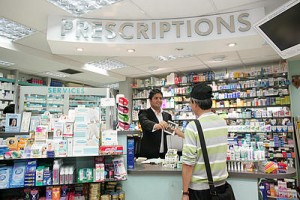 With autumn well and truly here it's common to expect your child to pick up the odd winter illness, such as a sore throat or high temperature, which may need to be treated with over the counter medicines.
So the NHS in Nottinghamshire is reminding parents that it has a scheme to help with these common ailments.
Pharmacy First is available to children aged from three months old who are registered with a Nottinghamshire GP, who are exempt from paying prescription charges. It means that those eligible don't have to pay for certain over-the-counter medicines. Instead they can see a qualified health professional at a pharmacy rather than make a GP appointment.
It is estimated that each year 57 million visits to the GP are made for common ailments. These same ailments would get the same treatment if the patient had visited a pharmacy. So now, by talking to your pharmacist first you can get the advice and medicines you need to get your child on the road to recovery without having to see a doctor. Plus there's no need to worry about having private conversations at the counter. Just ask to use the consultation room. All pharmacies operating the scheme have them.
Pharmacy First can be used for a number of common ailments. You will need to register with your local pharmacy first to receive advice and, where appropriate, medicines free of charge. You will be asked to provide proof of prescription exemption entitlement, and personal details.
Dr Oliver, Clinical Lead, Nottingham North and East CCG, said: "Pharmacists are experts in medicines and use their clinical expertise, together with their practical knowledge, to advise on the best medicines to treat common ailments. Your child can be treated much more quickly as no appointment is needed.
"Visiting your pharmacy first will also help to free up valuable GP time, which can be used to deal with more complex or serious health needs. A pharmacist will always advise you if they think your child needs to see a doctor.
"Often what the GP may prescribe, such as paracetamol, doesn't need a prescription. So it's always a good idea to talk to the pharmacist first."
The initiative is not available everywhere. It is currently being run in Dudley, Wolverhampton, Sandwell and parts of Birmingham as well as some areas of Nottinghamshire, Shropshire and Staffordshire and parts of Coventry and Warwickshire.