Stay well this Easter
Published: 15 April 2019 | Categories: Healthcare
What to do if you feel unwell over Easter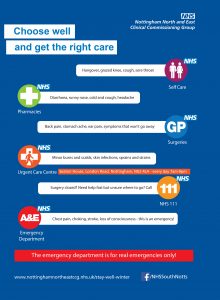 Self care
If you keep a good stock of medical supplies on hand, many minor accidents and injuries such as a sore throat, cough, grazed knee or hangover can be treated at home without a trip to
But remember to check use-by dates on all medicines, and make sure they are properly stored and out of reach of children.
A basic first-aid kit should contain:
plasters in a variety of different sizes and shapes
small, medium and large sterile gauze dressings
at least two sterile eye dressings
triangular bandages
crêpe rolled bandage
 safety pins
disposable sterile gloves
tweezers and scissors
alcohol-free cleansing wipes
sticky tape
 thermometer (preferably digital)
skin rash cream, such as hydrocortisone or calendula
cream or spray to relieve insect bites and stings
antiseptic cream
painkillers such as paracetamol (or infant paracetamol for children), aspirin (not to be given to children under 16), or ibuprofen
cough medicine
antihistamine tablets
distilled water for cleaning wounds
eye wash and eye bath
Pharmacies
Common ailments such as colds, sore throats and coughs can often be effectively treated at home. Pharmacists have a wealth of knowledge in how to treat these types of illness and a local pharmacy may help. It is also important to make sure your medicine cabinet at home is well stocked and contains sufficient over-the-counter medicines to treat minor ailments.
Nottinghamshire pharmacies Easter opening times
Urgent Care Centre
Nottingham NHS Urgent Care Centre
Seaton House, London Road, Nottingham, NG2 4LA
This Urgent Care centre is open every day of the year from 7am to 9pm. Just walk in, no appointment is needed. The centre is near the BBC centre on the London Road Island
NHS 111
If you need medical advice quickly, call NHS 111. Available 24 hours a day, 7 days a week, when you call NHS 111 you will be assessed, given advice and directed to the local service that can best meet your needs. A local extended hours and out-of-hours GP service is available for illnesses and injuries that cannot wait until GP Practices reopen after Easter..
In an emergency – call 999
If you or someone else has: loss of consciousness/ severe breathing difficulties/ heavy bleeding/ severe chest pains/ possible broken bones/ deep wounds/ stroke/ swallowed something harmful or poisonous/ taken a drug overdose then go to the Emergency Department at the QMC or call 999.
Remember the Emergency Department is for emergencies only!