Keep well this winter, starting with Self-Care Week
Published: 11 November 2015 | Categories: Healthcare
We're all being encouraged to look after ourselves and loved ones this winter starting during Self-Care Week (16 – 22 November 2015).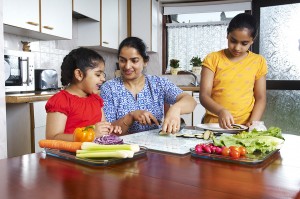 Self-Care Week aims to encourage all of us to be actively involved in improving our own health and well-being, especially those with a long term conditions such as diabetes or chronic respiratory problems.
People think they need to visit a GP or hospital with minor illnesses and injuries, but they are often better treated more quickly elsewhere, or at home using simple remedies.
Your local pharmacist can offer you free, qualified health advice at any time, and no appointment is necessary. From coughs and colds to aches and pains, they can give you expert help on everyday illnesses and answer questions about prescribed and over the counter medicines.
All year round, pharmacists can also advise in confidence on healthy eating, obesity and giving up smoking.
If you need help out of hours then call NHS111. Simply dialling 111 will put you through to the NHS.
Dr Oliver, Clinical Lead, Nottingham North and East CCG, says: "Self-Care Week is an important reminder that we all have a responsibility for our own health.
"People with long term conditions often have more complex health needs than others. However, with the support of healthcare professionals, they can plan their care to help manage their condition and prevent unnecessary visits to hospital.
"Self-care isn't just for those that are older or ill. If you're a parent or carer you still have a really important role to play. Making sure you and your loved ones are looking after themselves, taking medication as prescribed if they need it. In addition eating well, taking exercise and seeing others is really important for mental and physical health and wellbeing.
Self-Care Week isn't just about learning how we keep our bodies fit and healthy but also how we can improve our living environment and seek other help when we need it.
Our Top Tips for keeping warm and keeping well are:
Keep warm. Heat your home to at least 18°C (65°F). You may prefer your main living room to be slightly warmer. Keep your bedroom window closed on a winter's night. Breathing in cold air has no health benefits.
Get financial support. There are grants, benefits and sources of advice available to make your home more energy efficient, improve your heating or help with bills.
Look after yourself. Contact your GP to get your free flu jab if you are aged 65 or over, live in a residential or nursing home, or are the main carer for an older or disabled person.
Don't delay in getting treatment for minor winter ailments like colds or sore throats. Visit your local pharmacist for advice on treatment before it gets worse so you can recover quicker.
Layer your clothing whether you are indoors or outside. Wrap a scarf around your mouth to protect your lungs from the cold air.
Wear shoes with a good grip if you need to go outside.
When you're indoors, try not to sit still for more than an hour or so. Get up, stretch your legs and make yourself a warm drink.
Have your heating and cooking appliances checked by a Gas Safe registered engineer to make sure they are operating safely.
Contact your water and power suppliers to see if you can be on the Priority Services Register, a service for older and disabled people.
And finally, check on older neighbours or relatives to make sure they're safe and well. Make sure they're warm enough, especially at night, and have stocks of food and medicines so they don't need to go out during very cold weather.
If you're worried about an older person, contact a family member or ring the Age UK helpline on 0800 00 99 66.
More information about how to keep warm and keep well this winter
More information about Self Care Week