Don't let BBQ disasters take the sizzle out of Summer fun
Published: 09 July 2015 | Categories: Healthcare
So you're planning to be a barbeque hero for the Big BBQ weekend (11-12 July). But it takes more than donning a chef's hat and apron to make sure you don't have a barbeque disaster casting you as the villain!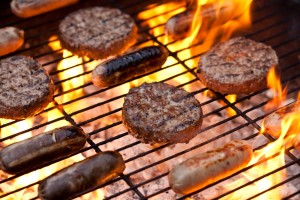 Whether you're a natural born griller, or dusting off the coals for the first time, enjoying a barbeque is part of the fun of summer – after all, it's the perfect excuse to get together with family and friends and relax in the sunshine and light nights.
But with more than 500,000 cases of food poisoning each year in the UK – salmonella being one of the main causes of hospital admissions – it's important to know how you can avoid the sizzle being taken out of your fun.
Dr. Paul Oliver, our Clinical lead,  says: "Cases of food poisoning almost double over the summer months. Food poisoning is caused by eating food contaminated by bacteria, such as salmonella or Escherichia coli (E. coli), or a virus, such as the norovirus.
"Although food poisoning is usually mild, and most people get better within a week, there are times when it can be more severe, so it's important to take the risks seriously. Children, older people and those with weakened immune systems are particularly vulnerable to food poisoning. Following these simple steps will help to keep food safe."
Simple steps include:
Making sure the coals are glowing red with a powdery grey surface before you start cooking to make sure they are hot enough
 Ensuring that frozen meat is properly thawed before it's cooked
Regularly turning the meat and moving it around the barbecue to ensure it is cooked evenly
Always cutting the meat at the thickest part to ensure none of it is pink on the inside. Don't assume that because meat is charred on the outside it will be cooked properly on the inside.
Remember that meat is safe to eat only when:
It is piping hot in the centre
There is no pink meat visible
Any juices are clear.
Recent research by the Food Standards Agency shows that one in five people do not keep raw foods on separate plates, increasing the risk of bacterial cross-contamination; 28 per cent of people don't check that burgers and sausages are cooked all the way through before serving; and 32 per cent of people don't check that chicken is cooked properly. Poultry meat was also linked to the most cases of food poisoning – an estimated 244,000 cases each year.
To prevent cross-contamination:
Always wash your hands with soap and water after touching raw meat. Make sure your dry properly too. Damp hands encourage germs
Use separate utensils (plates, tongs, containers) for cooked and raw meat
Never put cooked food on a plate or surface that has had raw meat on it
Keep raw meat in a sealed container away from foods that are ready to eat, such as salads and buns
Never wash raw chicken or other poultry before cooking as this increases the risk of spreading campylobacter bacteria
Never put raw meat next to cooked or partly cooked meat on the barbecue
Never put sauce or marinade on cooked food if it has already been used with raw meat.
Most cases of food poisoning can be treated at home with over the counter medicines. However, if you are worried about your symptoms and need advice, talk to your local pharmacy or call NHS 111, which is available 24 hours a day, 365 days a year. Simply dial 111 and you will be put through to the NHS.
For more information on barbeque food safety