Have you ever used primary care mental health services in Greater Nottingham?
Published: 15 July 2019 | Categories: Events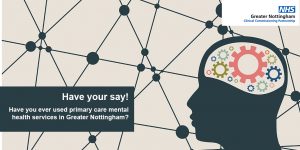 NHS England has undertaken an ambitious programme to transform mental health services by 2020/21 – and to provide equal status to mental and physical health, equal status to mental health staff and equal funding for mental health services.
Locally, the Greater Nottingham CCGs are reviewing the mental health services they commission to ensure they are fit for the future and and would love to hear your feedback.
We are currently looking at the Primary Care Mental Health pathway. This includes services like Wellness in Mind, Steps, your GP and talking therapies. If you have used the services in the past two years then please tell us what you think.
We are interested in the views of both people who have used the services themselves and their carers and families.
Your views matter. New ideas about how to improve services are also welcome and will be looked at by the commissioning teams –  just fill in the additional comments box with your suggestions.
The closing date for this responding to this survey is Sunday 4 August 2019
You can feedback here.