Do you use community health services?
Published: 11 February 2015 | Categories: Events
If you use community health services at your local health clinic or in your own home then we'd love to hear your feedback about the services you receive. We are currently reviewing our existing provision and would like you to join us at a special event.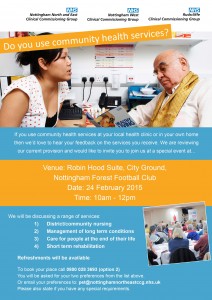 Venue: Robin Hood Suite, City Ground, Nottingham Forest Football Club, West Bridgford
Date: 24 February 2015
Time: 10am-12pm
This is an event for people who use community health services and live in the Nottingham North and East CCG area. Patients will also be invited to attend from the Rushcliffe and Nottingham West (Broxtowe and Eastwood) areas.
We will be discussing a range of services:
District/community nursing
Management of long term conditions
Care for people at the end of their life
Short term rehabilitation
Refreshments will be available
To book your place call 0800 028 3693 (option 2)
You will be asked for your two preferences from the list above.
Or email your preferences to: pet@nottinghamnortheastccg.nhs.uk
Please also state if you have any special requirements.