Crackers & Knackers – a health event just for men!
Published: 02 December 2014 | Categories: Events
Date: Saturday 6 December
Time: 7pm
Venue: Lindsay Morgan Hall, Marshall Hill Drive, Mapperley, Nottingham, NG3 6FY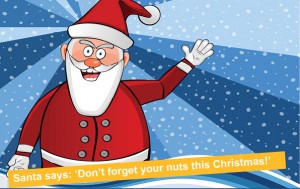 We all know that most men don't like going to the doctor or talking about their health, especially if it's anything embarrassing like lumps or bumps on their testicles.
But ignoring things and hoping they go away isn't the answer, as catching things early can be vital if there really is something wrong.
That's why we've taken matters into our own hands (so to speak!) and arranged for a doctor to come to them!
At the event Dr Oliver will be talking about testicular cancer and other men's health issues in a relaxed and informal environment.
Event organiser,  Andrew Palmer from St. James Church says: "The thought of testicular cancer is a concern that all men have. As I get older, it's something I think about more and more, so I wondered if we could we get a group of men together in a relaxed environment rather than a doctors surgery and give them helpful advice and relevant information?"
Dr Oliver says: "I was delighted to be approached to speak at this event. It can be really difficult to get men to talk about their health concerns and events like these, where men can feel comfortable, are an ideal platform to give them key information about what to look out for. It's vital that men pay attention to their health and wellbeing, look out for any changes, and go and see their GP if they think something's not right."
But men's health isn't just about physical issues; it's also about their mental and spiritual wellbeing. Men often suffer from mental health issues more than women because they don't talk about what's going on, and statistics show that men are much more likely than women to become isolated after relationship breakdowns, illness, redundancy and bereavement. Christmas itself can be a time when family tensions rise to the surface.
So the second speaker for the evening will be Paul Howard, an adviser to churches in Southwell and Nottingham diocese who has been involved in setting up 'Men in Sheds' projects to help men build friendships.
But will people be offended by the title of the event? The vicar of St. James Church, the Revd. Phil Williams, says: "If beer, burgers and humour can help men get over their embarrassment and learn something that improves their health and wellbeing, I think that's a risk worth taking!"
'What's the best thing a man can give his family this Christmas? His health and wellbeing.