Be mindful this Mental Health awareness week
Published: 12 May 2016 | Categories: Events
Nottingham North and East Clinical Commissioning Group (CCG) is supporting mental health awareness week which takes place 16-22 May, the theme of which is relationships.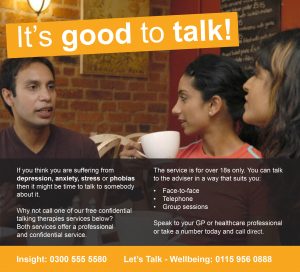 Anxiety, sleep deprivation and exercise can have a huge impact on our mental well-being, but also relationships with those around us also plays a part. Positive relationships with others, from family, friends and colleagues, helps to maintain our mental health.
Mental health problems can include low mood and depression, stress, anxiety, anger and panic attacks. Most people who feel low will start to feel better after a few days or weeks but if these feelings persist or get in the way of everyday life then it's time to seek help. If you've been feeling depressed for more than a few weeks or your anxiety is affecting your daily life, make an appointment to speak to your GP. Or you can contact one of our local Talking Therapies services direct.
Dr Paramjit Panesar, Gedling GP and Assistant Clinical Lead at Nottingham North and East CCG, says: "One in four of us will have problems with our mental health at some time in our lives. Sometimes difficult experiences or events can cause low moods and depression. If you're experiencing low moods, anger, stress or anxiety, it's important not to feel alone, talk to family and friends. If the symptoms you're experiencing are extreme and unmanageable speak to your GP, there are plenty of options to help you."
For more information about the awareness week