Are you carer?
Then help is at hand…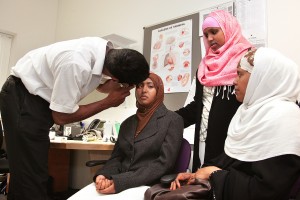 If you look after a parent, or a relative or friend who is disabled then you are a carer. As a carer you are entitled to support to help you in your caring role. You also have the opportunity to have a carer's assessment.
Carers play a vitally important role in supporting family and friends to live a better quality of life. We recognise this and want to support you in your caring role.
What do we count as a carer?
If you look after somebody with a physical or mental illness, learning disability of frailty who needs extra support at home then you are a carer.
If the person you look after is:
A young or older person
A relative, partner, child or friend
In need of personal care, supervision and community support
Then you are a carer. It doesn't matter whether you live with the person or not. Please note that we are not talking about people who provide care as part of your paid employment or on behalf of a voluntary organisation.
Caring for carers
Please let your GP know that you're a carer so that your health needs as a carer can be taken into account. if you're a carer and would like some extra support then go to the Carers' Federation for more information.
If caring has a major impact on your life and you think you many need social care services to continue to care, please contact Social and Health Care Team on 0300 500 80 80 or email: enquiries@nottscc.gov.uk to request a Carers Needs Assessment.
If the person you care for is not receiving any community care services, they may benefit from having their own assessment to discuss their needs, find out what help may be available and if they may be eligible for help.
Further information on assessments and services for carers.
Can you stand up for other carers? We're looking for Carers' Champions, who can support other carers at you practice. Take a look at our Carers' Champions' page for more details. .
Dementia Carers
We happy to promote the Dementia Carer website which is a first-of-its-kind website, developed with dementia carers in mind and packed with videos full of helpful tips and ideas.
Funded by local NHS organisations and local authorities, Dementia Carer is a one-stop local, practical resource for the thousands of people across Nottinghamshire who look after a partner or relative who has dementia.
The site focuses on four key topics – daily life, friends and family, working with others and looking after yourself, with each having a number of tips such as making 'me' time, getting help from other people, coping with your own frustrations and accepting help.
Carers can follow links to other sources of information, advice and support in the area they live by using the search box facility and they can share what they find useful with others by email or by downloading and printing.