Community engagement
Out and about across Nottingham North and East and Greater Nottingham
Each month Nottingham North and East's patient, public and carer engagement team gets out into the local community as much as possible to find out people's views on local health services.
This can involve anything from having information stalls at events, working with our community partners to spreading local health messages.
If you see us out in the community come and say hello and tell us what you think of your local health services
If you have a local community group that would like to talk to the CCG about local health services, contact us.
If you are putting on a local event and would like the CCG to have an information stall at it do contact us
Nikki Biddlestone is the local patient engagement manager (pictured). Hucknall resident Nikki is always out and about on the Nottingham North and East patch. If you'd like the CCG engagement team to join you at your local health event or want to talk about patient engagement, please contact Nikki. You can even contact her through her own NNE engagement facebook page
Every couple of months an update will be uploaded onto the website to keep you up to date with our activities.
Follow Nottingham North and East CCG on Facebook
Nikki also has an NNE Engagement page –  she's happy to add community and patient contacts. See what Nikki is up to here.
What Nikki has been up to recently
The team across Greater Nottingham also regularly send out information via a bulletin or newsletter (Outlook and Mailchimp) Please see most recent versions here  – Weekly Bulletin Sept 2018 to Feb 2019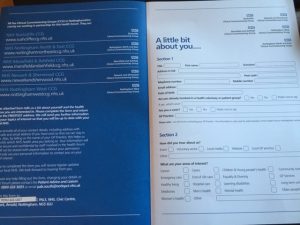 You could also join out health forum and get involved with the specific areas of health you are interested in. Look out for forms at your GP practice and from the team at local events.