Contact Us
Patient Experience Team
When you tell us about your experiences, we can use them to inform local NHS decision makers so that when they are looking at how to improve local services they consider what you have said.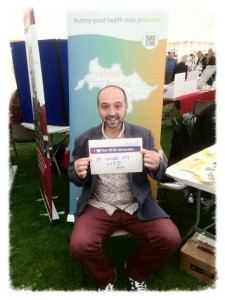 If you have received some fantastic care then we need to hear about it to ensure that service continues to support patients. Similarly we also need to know when your journey through health services hasn't been good so we can pinpoint areas where the quality of care needs to be improved.
We also provide information and advice on local NHS services for patients, their families and carers and and we're often the first point of contact for patients who live in the South Nottinghamshire area.
Contact us
0800 028 3693 or email nnestccg.pet@nhs.net
Click here for more information
Complaints
Complaints form an important element of feedback and reflect where services commissioned and/or provided by the CCG have failed to meet with user expectations.
From 1 April 2013 the way in which complaints are dealt with has changed. If your complaint relates to primary care (e.g. GP, Dentist etc) you will need to contact the Area Team of the National Commissioning Board which are contactable by phone on 0300 311 2233 or by email england.contactus@nhs.net
For complaints which relate to other aspects of healthcare please contact the Complaints Team as follows:
Freepost RTHU-JLJL-LGLT
Patient Experience Team
South Nottinghamshire CCGs
Civic Centre
Arnot Hill Park
Arnold
NOTTINGHAM
NG5 6LU
Telephone: 0800 028 3693
Nottingham North and East Clinical Commissioning Group
Address
Civic Centre
Arnot Hill Park
Arnold
Nottingham
NG5 6LU
Telephone
Main Number:
0115 883 1838
Monday – Friday 9am – 5pm
Email
Media enquiries
Call Toni on 0115 883 1833
email: antonia.smith@nhs.net
Freedom of Information Requests
Under the Freedom of Information Act 2000 you have the right to ask a public sector body, including the CCG, for any recorded, corporate information it holds.
Find out how to make a Freedom of Information Request.
Data Subject Access Requests
You can access any personal information we hold about you under data protection law by making a written Data Subject Access Request.
We process all Data Subject Access Requests in accordance with the ICO Subject Access Code of Practice and the EU General Data Protection Regulation.
If we hold personal information about you we will:
confirm this to you;
give you a copy in a format that is easy to understand;
provide the information within one month, or contact you if that is not going to be possible;
not charge you a fee; unless there are extenuating circumstances.
To make a Data Subject Access Request, send your detailed request and a copy of valid identification to the Head of Information Governance at:
ncccg.ig.greater-nottingham@nhs.net
Room 3.05
1 Standard Court
Park Row
Nottingham
NG1 6GN
If we do hold information about you and you consider it to be inaccurate, you can ask us to correct any mistakes by contacting us at either of the addresses above.
We will only retain personal information for as long as necessary. Records are maintained in line with the IGA Records Management Code of Practice retention schedule.
Caldicott Guardian
The CCG has a Caldicott Guardian who is a senior person responsible for protecting the confidentiality of service user information and enabling appropriate and lawful information-sharing. There are specific processes which are followed to ensure the continuing security and confidentiality of information.
The contact details for the CCG's Caldicott Guardian are:
Nichola Bramhall
NHS Nottingham North & East Clinical Commissioning Group
Civic Centre
Arnot Hill Park
Arnold
Nottingham
NG5 6LU
Tel: 0115 8831838
Email: ncccg.ig.greater-nottingham@nhs.net
 Data Protection Officer
Loretta Bradley, Head of Information Governance
Tel: 0115 8839508
Email: ncccg.ig.greater-nottingham@nhs.net .
Senior Information Risk Owner (SIRO)
Gary Thompson, Chief Operation Officer.
Email: ncccg.ig.greater-nottingham@nhs.net.