Join us and make a difference to your local NHS services
Published: 20 May 2019 | Categories: Community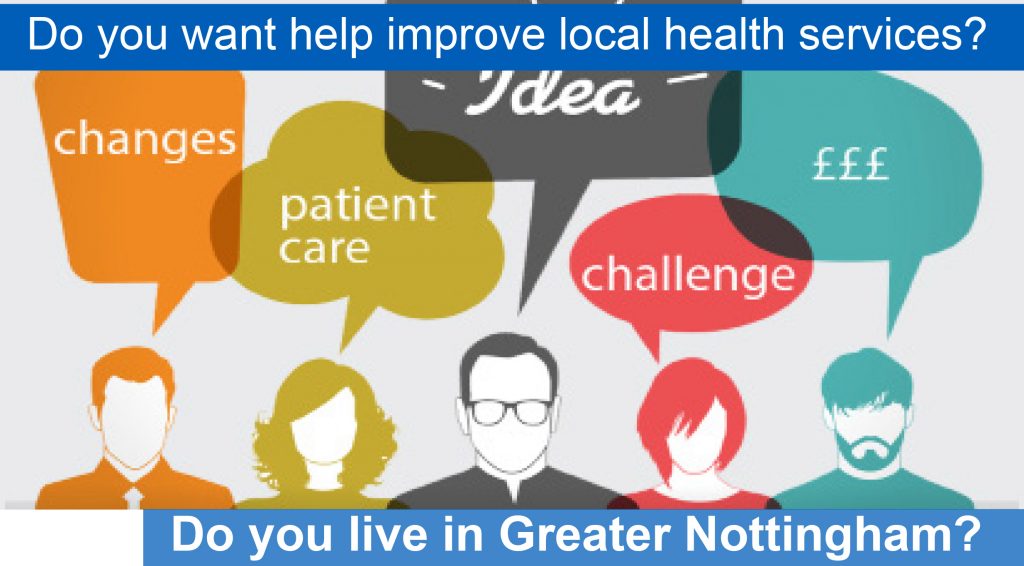 The Greater Nottingham Clinical Commissioning Groups (CCGs), responsible for the planning, monitoring and buying of health services to meet the needs of local people in Broxtowe, Gedling, Hucknall, Nottingham City and Rushcliffe, are looking for local people to join their Patient and Public Engagement Committee (PPEC).
We are looking for people who are passionate about the NHS and improving local health services.
All CCGs in Nottinghamshire are working together to commission health services for the local population. The PPEC is being established as a strategic group to ensure that patient voice informs the decision making of the four Clinical Commissioning Groups (CCGs) in Greater Nottingham. These are:
NHS Nottingham City CCG
NHS Nottingham North and East CCG
NHS Nottingham West CCG
NHS Rushcliffe CCG
The PPEC will act as a patient public committee for the four CCGs, bringing together people that represent the area's geography, its population and its health priorities.
As a member of the Greater Nottingham PPEC, you will
Help ensure patients can have a voice in the development of health services across Greater Nottingham
Support two-way communication between local patients, groups and networks and the CCG
Ensure meaningful involvement and engagement with patients and the public and also make sure this feedback informs and improves the quality and cost effectiveness of local services
Help make sure patients are actively involved in engagement and consultation
If want to make a difference to local health services and are committed to making sure that NHS plans and decisions reflect the needs of all our local communities then please apply to join PPEC today.
The timeline of the GN PPEC formation will be as follows:
| | |
| --- | --- |
| Expressions of Interest process for Greater Nottingham PPEC opens | 17 May |
| Expressions of Interest process closes | 14 June |
| Shortlisting of members | 18 June |
| Interviews | 28 June – 2 July |
| First meeting of the Greater Nottingham PPEC | 30 July |
Please read the Role description and personal specification for more information and if you have any questions, or would like to discuss these opportunities, then please contact the Engagement and Communication on: 0115 883 1790 or email: nnestccg.engaged@nhs.net.
You can read the Terms of Reference for further information