Help shape primary care services in Carlton
Published: 12 September 2016 | Categories: Community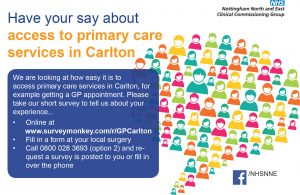 Access to primary care services (GP surgery, Doctor, Nurses and Healthcare Assistants) at the right place, and at the right time, is essential to ensure your health needs are appropriately met.
We want to hear the opinions of patients using primary care services in Carlton, and surrounding areas, to understand some of the local issues patients have around access to services.
You views will help us to review, and where necessary develop, services to ensure patients have access to good quality, safe and compassionate primary care.
Please take the time to fill in this short survey – we need your input to ensure we provide the best possible service for the people of Carlton.
How to have your say
Online at www.surveymonkey.com/r/GPCarlton
Fill in a form at your GP practice
Call 0800 028 3693 (option 2) and request a survey is posted to you or fill in over the phone