Patients in Nottinghamshire urged to know their numbers
Published: 15 September 2015 | Categories: Campaigns
Patients across Nottinghamshire are being offered free blood pressure checks as part of Know Your Numbers campaign in September.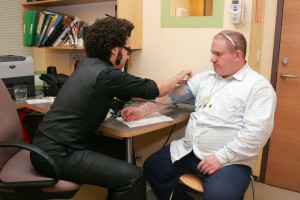 NHS Nottingham North and East Clinical Commissioning Group (CCG) is urging patients to visit www.bloodpressureuk.org to find their nearest pressure station. The free checks will be taking place in many local pharmacies across the areas it serves.
Blood Pressure UK has over 1,000 'Pressure Stations' across the UK offering free blood pressure checks. More than eight million people in the UK have high blood pressure but are not being treated for it.
The tests, which help patients review whether their blood pressure count is within a normal, high or low range, can play a significant role in reducing harm caused by heart attacks, strokes and other serious health complications resulting from high or low blood pressure.
The ideal blood pressure range is below 120 over 80 (120/80mmHg) but most adults in the UK have readings from 120/80mmHg to 140/90mmHg. High blood pressure can cause heart attacks, strokes and other serious health problems.
The checks will be undertaken by fully- qualified staff, with vital follow-up guidance given as necessary. Resources and tips from the British Heart Foundation (BHF) on how to keep your heart healthy by reducing your blood cholesterol, changing diet, keeping active, reducing salt intake and maintaining a healthy weight will also be available.
Dr Paul Oliver; GP and clinical lead for NHS Nottingham North and East CCG, said:
"High blood pressure affects around 30% of people in the UK . Many people don't even know they have it. Left untreated, high blood pressure or hypertension can increase your risk of heart attack, heart failure, kidney disease, stroke or dementia.
The chances of high blood pressure increases as you get older. People who are overweight, who smoke, have excessive caffeine or too much alcohol are also at risk.
There is positive action that you can take to alter your blood pressure whether it is too high or even too low so it's well worth a simple check at your participating pharmacy."