Not to late to join stop smoking challenge
Published: 02 October 2014 | Categories: Campaigns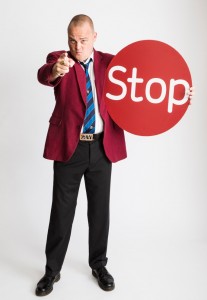 Stoptober, the 28-day stop smoking challenge kicked off earlier this month and it's not too late to get involved.
The stop smoking campaign is this year encouraging smokers to swap their fags for gags to help them quit for good this month.
British comedians including Paddy McGuinness and Al Murray are supporting the campaign to bring a touch of the British sense of humour to help quitters through this tough challenge.
Evidence shows that if a smoker can go 28 days without a cigarette, they are 5 times more likely to stay permanently smoke-free. Quitting smoking can be a difficult process but successfully quitting has significant health, monetary and social benefits.
It's not too late to get to take the Stoptober Challenge.  More than 250,000 people nationwide have registered and you can still join them. Sign up now
For advice and support with quitting smoking contact the Nottinghamshire New Leaf  service on 0800 389 7712 or text 'LEAF' to 80800
Good luck!