GP services available over the Christmas holidays
Published: 18 December 2017 | Categories: Campaigns
GP services available over the Christmas holidays
The Greater Nottingham Clinical Commissioning Groups are advising local people to be aware of the GP services available over the Christmas holidays.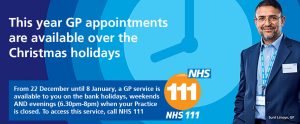 From 22 December to 8 January, across Greater Nottingham urgent appointments are available on the bank holidays as well as weekends.
Patients can book an urgent appointment the same day by phoning 111.
Weekday evening appointments are also available between 6.30pm and 8.00pm. This service is available when the patient's GP Practice is closed.