Don't let a minor illness get you down – get help early
Published: 27 January 2016 | Categories: Campaigns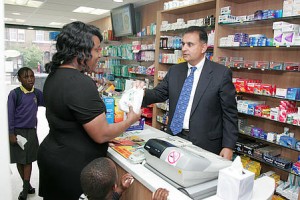 We're urging people to get help early if they become ill over winter so their condition does not deteriorate
Winter is a time of year where colds and flu are more prevalent and for the vulnerable such as the young, elderly or those with long term conditions catching something minor can turn into something major.
Dr Paul, Oliver, Clinical Lead, Nottingham North and East CCG says: "It is important if you get a winter illness, even if it is just a cold or sore throat, to take good care of yourself.
"We know that a lot of admissions to hospital over winter are for illnesses that if treated early, could have been better managed. This means a stay in hospital could have been avoided.
"The very young and very old are most likely to be admitted to hospital, and those with respiratory conditions such as COPD or asthma. That's why it's really important you seek help early if you start to feel unwell.
"A pharmacist can help you understand which over the counter medicines can help your symptoms and give you advice which remedies work best with any medication you're already taking."
Pharmacists are health experts who can recognise many winter health issues. They will know if a problem is more serious and advise if a trip to the GP or urgent care is needed.
If you think you need to see a doctor or nurse or the pharmacist is closed visit www.nhs.uk click on the urgent care button and type in your location or postcode and it will tell you which urgent care centres are open. If you haven't got access to a computer then call 111 and talk to the NHS. They can advise on where to go depending on your symptoms.
For more information on winter health