Ditch the razor and embrace the fuzz to beat bowel cancer
Published: 27 November 2015 | Categories: Campaigns
We're are backing this year's Decembeard campaign; a national hair growing crusade in which men ditch their razors for the month of December to help raise awareness of bowel cancer.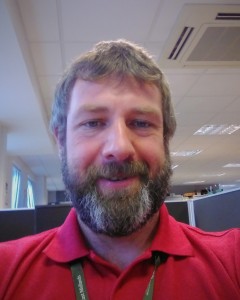 We're supporting the campaign to call on everyone to be more familiar with the symptoms of bowel cancer; its causing factors and to identify the early signs of the disease and save more lives. They are also using the campaign to issue a reminder to people about the importance of screening for early detection of the disease.
Bowel cancer is the second biggest killer of men and women in the UK and is the most common cause of death in men after lung cancer. The disease is the fourth most common cancer in men and women in the UK. In 2011, there were more than 41,500 new cases of bowel cancer in the UK: 23,171 (56%) in men and 18,410 (44%) in women.
The incidence of bowel cancer in Nottinghamshire is higher than the national average (53.2 per 100,000 compared with the national average of 46.5 per 100,000)*
In the UK between 2009 and 2011, an average 43% of bowel cancer cases were diagnosed in people aged 75 years and over, and 95% were diagnosed in those aged 50 and over. More than 2,100 patients under the age of 50 are also diagnosed with the disease each year, with three out of five of those diagnosed under the age of 50 having stage three or four bowel cancer.
Patients aged 60 to 74 will automatically be sent an invitation and a screening kit to do the test at home. The testing kit is a very simple way to collect small samples on a special card at home. There are clear instructions sent with the kit. People then send the card in a hygienically sealed, prepaid envelope to a laboratory for testing. They will be sent the results of the test by post within two weeks.
Decembeard participants will grow their beards during the month of December to help raise funds and awareness for the charity. The campaign has been backed by famous personalities including comedian and actor Eddie Izzard, whose mother died from bowel cancer, and former England Rugby star, Matt Dawson who lost his grandfather to the disease.
Decembeard is hosted by national charity, Beating Bowel Cancer which has been saving lives from the disease by raising awareness of symptoms, promoting early diagnosis and encouraging open access to treatments. Decembeard has grown to become one of the most engaging health promotion campaigns since Movember.
Around 1 in 20 people in the UK will develop bowel cancer during their lifetime, and with around 40,000 new cases every year, health leaders are urging patients to seek advice from their GP if they discover the following symptoms:
Blood in faeces
Change in bowel habits (more frequent, looser stools)
Abdominal pain.
Dr Paul Oliver, Clinical Lead, Nottingham North and East Clinical Commissioning Group said:
"it is so important that people are more familiar with the symptoms and that sent them, complete their home testing kits after they have landed on their doormat. Bowel cancer is one of the most treatable cancers if it can be detected early yet is still remains one of the biggest killers. Family history is a factor but other factors are lack of exercise, obesity, high alcohol intake and smoking. The home testing kit is simple, straightforward and could save your life"
Almost 9 in 10 cases of bowel cancer are in patients over the age of sixty.
Sign up and show your support for this year's Decembeard challenge