Celebrities pledge support to encourage the nation to Stay Well This Winter
Published: 17 November 2015 | Categories: Campaigns
A number of the country's famous faces are supporting a major drive to help the nation keep well over the winter months.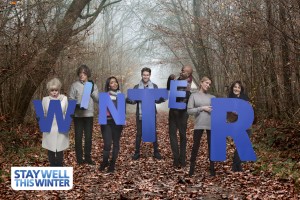 The celebrities backing 'The Stay Well This Winter' campaign, a joint initiative from NHS England and Public Health England, have been photographed in their woollies holding the letters W-I-N-T-E-R. Each letter represents an action people and their families can take to ensure they stay well over the winter months.
The latest data reveals that excess winter deaths contribute to about 1 in 20 of all deaths per year, with older people who may be frail, or who have existing long term health conditions, most at risk. The Stay Well This WINTER messages, which are aimed at these audiences and carers are:
Warm: Keep your house warm this winter at least 18°C (65F)
Immunisations: Get your flu vaccination
 Neighbours: Keep an eye on elderly neighbours and relatives
Timely: Seek advice from a pharmacist at first sign of illness
Enough: Pick up repeat prescriptions so you have enough while pharmacies/surgeries are closed
Restock: Make sure you have enough food and medicine in the cupboards
Actress Barbara Windsor, who is supporting the campaign said:
"It's the simplest things that we sometimes forget, and when remembered, they can make all the difference! The Stay Well This Winter campaign is a great way of reminding people about the little things they can do to make sure they're protecting themselves as the cold weather sets in, whether that's staying warm, stocking up on prescription medicines or checking in on friends and neighbours to make sure they are keeping well".
TV doctor, Dr. Rosemary Leonard who wants to encourage the public to be more aware of the dangers that winter can bring said:"Elderly people and those with long term health conditions are particularly vulnerable to winter illnesses so I'd urge anyone that falls into these groups to take heed of these messages and plan ahead for Winter.
"With over 1 million people stating that they are always or often lonely, crucially, this initiative reminds us to keep an eye on elderly neighbours and relatives. Simple actions like making a phone call to say hello or ensuring our loved ones have stocked up on prescription medicines takes no time at all but can make all the difference."
The launch of these iconic images coincides with the start of Self Care week which aims to help people understand when it is safe to look after their own health, when to seek treatment, and where to access health advice, whether it is from the pharmacist, GP, nurse or if emergency treatment is required.
John Smith, Chief Executive of PAGB, which organises Self Care Week on behalf of the Self Care Forum, said:"It is important we support people to look after their own and their family's health, particularly over the winter. There are still misconceptions about the self-treatable conditions we all experience, such as coughs, colds and sore throats. For example, more than a third of people who go to see their GP with cold or flu symptoms do so to get a prescription for antibiotics, even though we know that antibiotics just don't work on these viruses.
"There are lots of things people can do to stay well over the winter, such as having the flu jab and keeping warm. If anyone is concerned about their symptoms, or needs advice about which over-the-counter medicines are suitable, they should speak to a pharmacist. Pharmacists are highly trained healthcare professionals and, for the vast majority of people, the local pharmacy is easily accessible and no appointment is needed."