Be alert to the symptoms of bladder and kidney cancers
Published: 14 October 2014 | Categories: Campaigns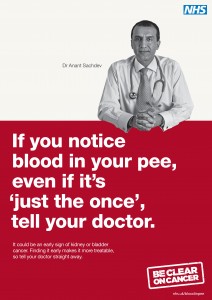 We're supporting the Be Clear on Cancer 'Blood in Pee' campaign.
Launching on 13 October, the Be Clear on Cancer campaign will run for six weeks across England with the aim of raising awareness of a key symptom of both bladder and kidney cancers – blood in pee. The campaign encourages people who notice blood in their pee to see their doctor straight away. These cancers are more treatable if they are diagnosed early.
Adverts will appear on national TV and radio. There will also be events in public areas such as shopping centres.
Around 17,000 people in England are diagnosed with bladder or kidney cancer each year and these cancers account for around 7,500 deaths each year.
Visible 'blood in pee' is a key symptom for bladder and kidney cancers. Yet when asked to name cancer signs and symptoms, only one in three people mention unexplained bleeding. People need to know that if they have this symptom, they should see their GP wit
hout delay.
For further information about the signs and symptoms of bladder and kidney cancer, please visit nhs.uk/bloodinpee