Our area and partnerships
The population of Nottingham North and East CCG is distributed across five local authority areas within Nottinghamshire County, namely Gedling, Ashfield, Broxtowe, Nottingham City, and Newark and Sherwood.
The majority of patients registered with GP practices in the CCG area live within three districts: Gedling Borough, Ashfield District (mainly Hucknall), and Broxtowe Borough (parts of Eastwood). The remainder live in Nottingham City, Newark & Sherwood District and other parts of Nottinghamshire.
Our geographical coverage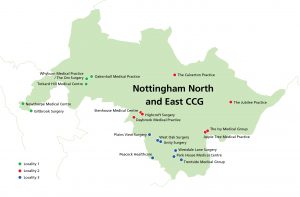 Partnership working is vital to the CCG in delivering to the needs of our communities. We are working closely with the district and borough councils relevant to our CCG boundaries including:
We are also working closely with Nottinghamshire County Council and our Clinical Lead sits on the Health and Wellbeing Board.
We know that we can only achieve our ambitions to improve local people's health, secure high quality NHS services, and achieve value for money by working effectively with our neighbouring CCGs. With these CCGs we share resources, skills, knowledge and experience where added value can be achieved.
Our neighbouring CCGs are:
The main providers who we work closely with are as follows:
Local Partnerships – Community Services
Nottinghamshire Healthcare NHS Trust – Mental Health Services
Nottingham University Hospitals NHS Trust – Acute care (Queens Medical Centre and City Hospital)
We work with many voluntary organisations, including:
Healthwatch Nottinghamshire
Carers Federation
Self Help Nottingham
Age UK Nottingham & Nottinghamshire (Age UK Notts)
Rushcliffe Community and Voluntary Service